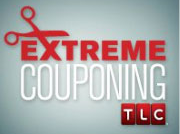 TLC will be airing their new show 'Extreme Couponing' tonight at 9pm EST. They will be profiling Four new couponers. Tonight's episode will be featuring the following people, Rebecca Routson from St. Louis, Tiffany Ivanovsky from Houston, J'aime Kirlew and Jessica Hacker from Caldwell, Idaho.
Head over to WeUseCoupons to read more about them.
Make to sure to watch next week, April 13th when MrCoupon from WeUseCoupons will be featured!
This post contains affiliate links, which means I may receive compensation in the form of money or credit for promoting the link. However, I will never endorse anything that I do not believe in. I do not personally take advantage of every deal I post, I am trying to save money also, so if you ever come across something that doesn't seem legit, please inform me right away. My top priority is helping you save money, not me making money.
Join me on Facebook and keep up to date with exclusive Facebook offers!